Regular price
Sale price
$420.00
Unit price
per
Sale
Sold out
Limited edition print of the original "Drinks with Friends".

Only 10 limited edition prints available. Print surface is textured canvas. Image sizes are specified.

Framing is available. Canvas is stretched and framed in Tasmanian Oak.

Hand signed and numbered by Jacklyn Foster, with signed certificates of authenticity.

Limited edition prints are made to order when the prints are purchased. Orders take approximately 3 weeks, plus shipping for unframed / unstretched, and 4-6 weeks, for framed orders.

FREE SHIPPING across Australia. For international shipping enquiries please contact jacklynfosterart@gmail.com
Share
View full details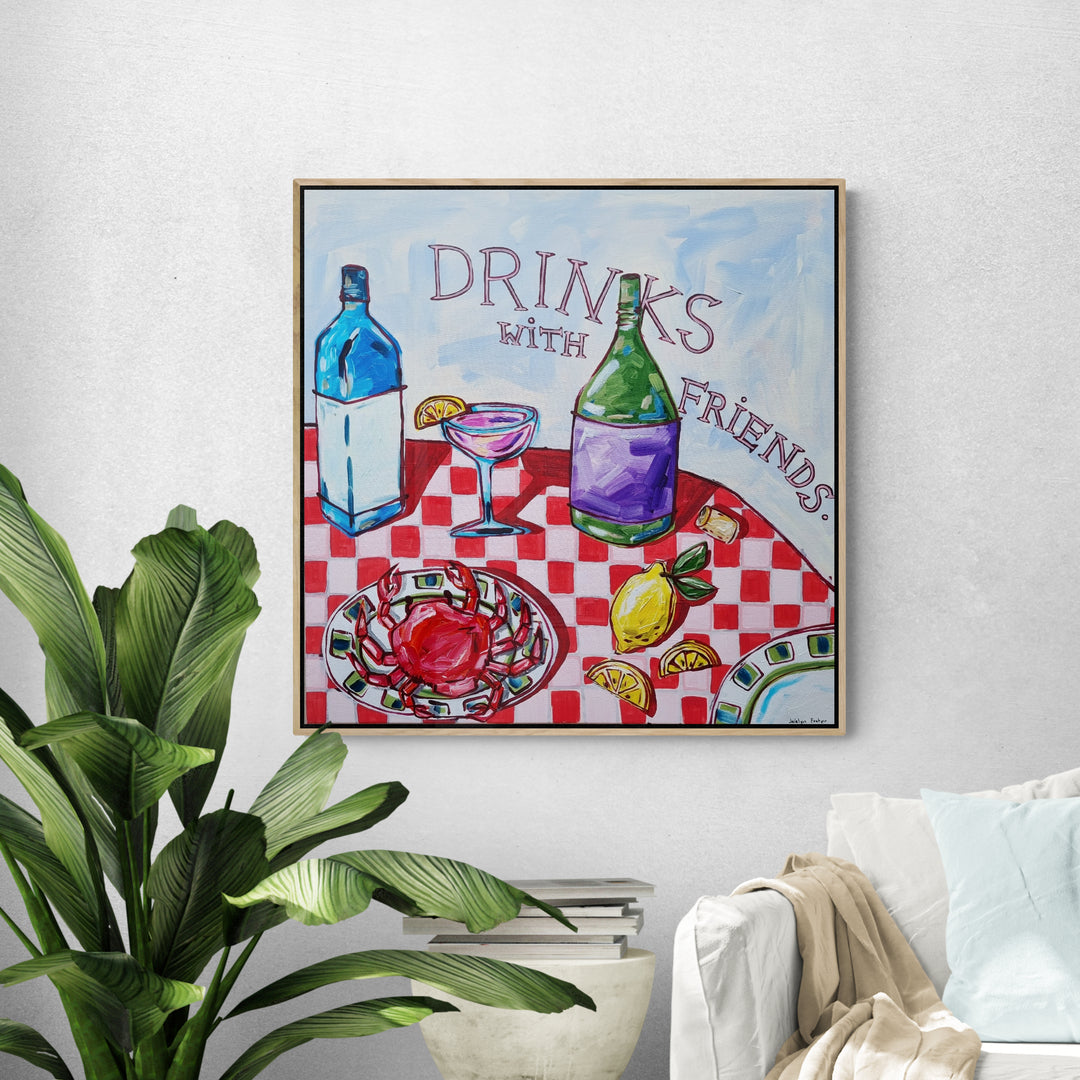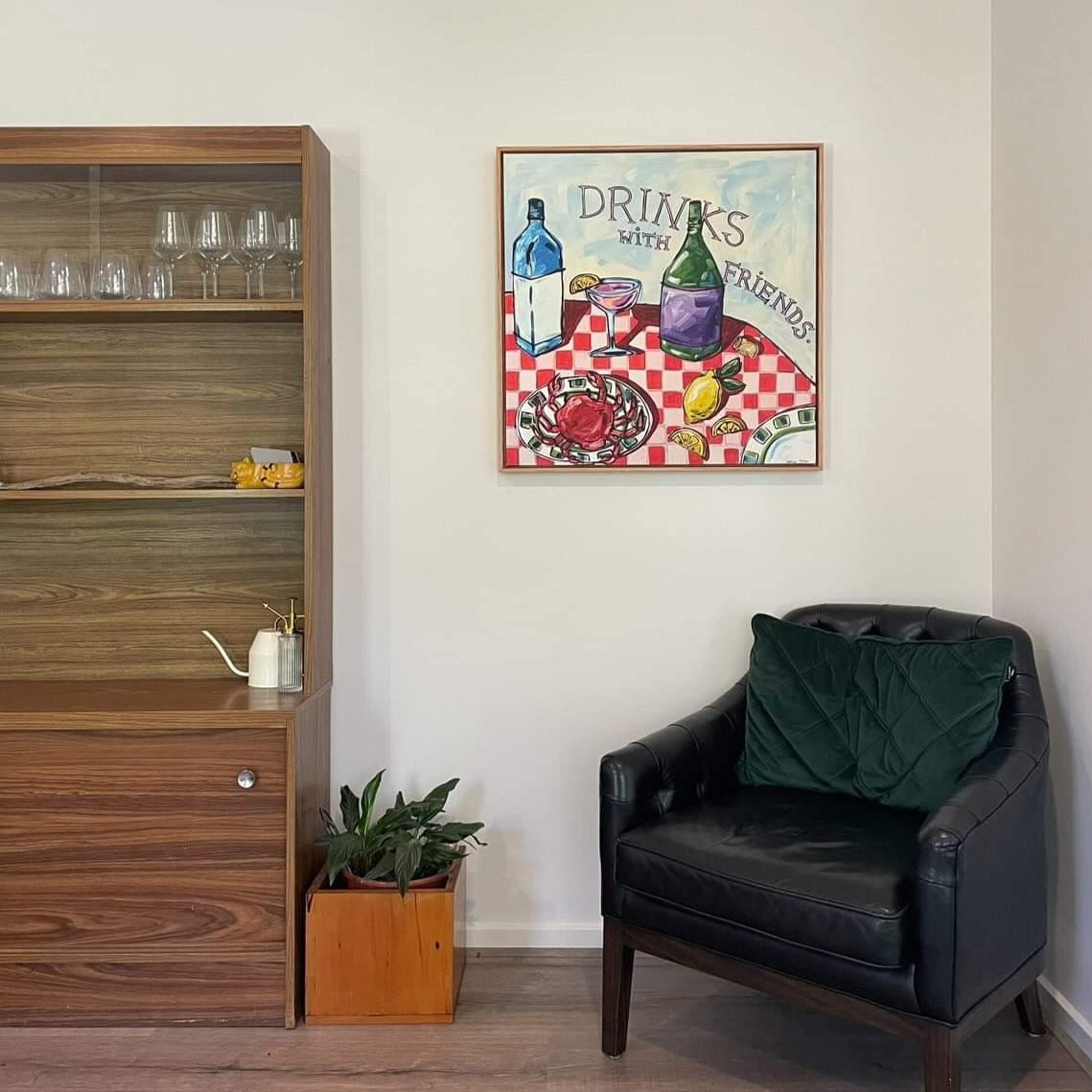 FREE GIFT WITH PURCHASE
Enjoy a FREE pack of greeting cards, RRP $35.99 as a thank you for being such a legendary human, who has great taste in art, I might add.
Shipping
How much will shipping cost?

Did you hear that? That's the sound of FREE SHIPPING AUSTRALIA WIDE! Yes, that even includes framed prints and artworks.

For worldwide shipping, please contact me for more information.
Shipping and turnaround time.

Limited edition prints are made to order when the prints are purchased. Orders take approximately 2 weeks, plus shipping for unframed / unstretched and rolled, and 3-4 weeks, for framed orders.
Can you provide worldwide shipping?

Unframed prints - yes!

Unfortunately I do not shipped framed prints overseas. However if you are super keen, and happy to pay the extra money to insure and ship the piece, contact me and we discuss how much it will cost, and then I can say 'bon-voyage' and send the piece on it's way to you, it's forever home!
Framing and Sizing
Materials / framing

The prints are produced on high quality, 400 gsm canvas. Varnished for added protection and longevity. The canvas is either stretched onto a canvas, and framed, or arrives unframed / rolled in a protective tube. Paper prints also arrive in a protective tube. Framing is unavailable for all paper prints.

Framing is completed professionally in raw Tasmanian Oak, unless specified otherwise. Framed pieces arrive ready to hang.
Do you offer custom print sizes?

"I have this oddly shaped space in my kitchen that one of your prints would look perfect in - but I will need a custom size to fit the space, HELP!"

Sometimes the sizes that are available on the website might not be quite right. In most cases, the prints can be cropped / rotated. Find out more about custom sizes here.
What is the difference between framed and unframed prints?

Great question, framed canvases come delivered, professionally framed - ready to hang immediately, in that "I've got the perfect place to hang it" spot.

Where as, unframed will arrive in a tube, rolled up and ready to be framed at a later date.

Paper prints can be framed in glass professionally or in a frame from Target or Kmart as a cost effective alternative.

Canvases will need to be dropped off to a framer to be stretched onto a wooden frame and then mounted into it's perfect frame of your choosing.